Interview with Donna Thompson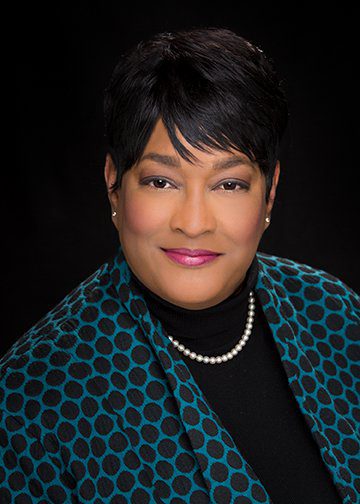 We spoke with Donna Thompson, CEO of Access Community Health Network, which served as a 2016 host company, about being a part of this initiative. We also spoke with one of our participating students, Alicia Dutkiewicz from St. Xavier University, about her experience as a TCN Future Leader.
Why did participating in the Future Leaders Program resonate with you?
One of the reasons it appealed to me is that it goes back to my roots. I'm from a working-class family, the first in my family to go to college. We hosted St. Xavier from the South Side of Chicago. My husband and I are both from the South Side. Many of the women we hosted were from similar backgrounds. I was probably 20-25 years into my career before I got close to the C-Suite. I wanted to know who these people were, how did they think, what they did, and what did their offices look like. For me, it was about giving back with a purpose. For so many of these women, especially women of color, they could see that there is someone who looks like me and that it is possible.
What are the key lessons you tried to impart to the students?
Continue to explore and question, but also understand any door you walk through is not a wrong door; it's an opportunity to learn something or gain a new experience.
In what ways did your employees' participation in this program benefit them and/or the company/organization?
I learned more about my employees through this process than I've learned when I've been out and about talking to them. I gained a better understanding of what's really important for them and about their journeys.
What business case would you make for other employers to replicate this program for other students?
As we look at millennials who are going to be the biggest presence in the workforce, we'd be remiss not to keep our fingers on the pulse of how they view the workplace and how we can shape the workplace to further engage them. As you look at places like McDonald's and Walgreens having a presence in downtown Chicago, it's a response to this new workforce. As a CEO, I'm consistently looking at how we can engage and keep our workforce motivated because retention is key. We know every time we lose an employee, there is a huge cost to the company. Extending the line from how we spend time with these future leaders to how we engage our current workforce and the investments we need to make in order to retain and keep them engaged – that is a business case that speaks for itself.
What leadership skills did you discover are most important to enter and progress in the workplace?
Future Leaders helped reaffirm that confidence and ambition are two important skills for one to have in the workplace. At Access Community Health Network, we were told to always be genuine to yourself and your values and to never ignore your own gut instincts. Present yourself in a way that makes your knowledge and passion evident to your bosses and co-workers, have an overall willingness to do your job to the best of your ability and take on new challenges. These are the qualities that will make you memorable and valuable inside and outside of your organization.
What did you learn that was most surprising or unexpected?
The idea that it's okay to apply for an opportunity even if you don't fit every single prerequisite in the job description. Sometimes hiring managers are actually looking for someone who is unique – different from all the other cookie-cutter applicants. You can always learn new skills or adapt your already-existing skills to fit into a new environment if that's what you want to do.
What did you take away from the program that will be most helpful as you consider your first job?
Many of the employees at ACCESS had switched jobs or even entire industries – often even a couple of times – in order to fall into a career they loved. Hearing their stories gave me a sense of relief and reinforced my goal of finding a future job that really inspires me and gives me a sense of personal accomplishment, and to not feel disheartened if I don't find something that fits this criterion right away.
What would you tell a friend about your experience in this program?
I would best describe the program as a one-of-a-kind preview into the professional world. The orientation and the company visits were all unique networking opportunities that allowed my peers and me to meet people we would normally never have met, get answers to the questions we normally wouldn't have anyone to ask, and tour places we normally would never get to see. I was surprised by how much we got to do and how many successful women we got to hear from and talk to in such a short amount of time. My experience exceeded my expectations.